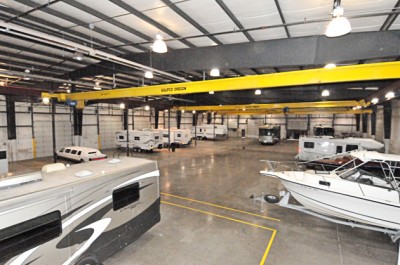 100,000 square feet of HEATED INDOOR STORAGE!
The ultimate protection for your valuables.
Secured inside our huge gated yard.
Valet service!
It's Finally Here. Willamette Valley's best and largest full service indoor storage center for RVs, Boats, and Autos. Offering our customers the time to enjoy their investments rather than using up their time maintaining them. Let Premier RV & Boat Storage and Services store your motor home, water craft, or auto. Store your Country Coach (or other RV) at Premier when you're not enjoying it! We can even perform service on it while its stored, so you don't miss a minute of your play time having maintenance work completed!
The Premier Storage Compound offers the largest variety of secured storage options in the Willamette Valley! Arrival or Departure Services are economical and convenient.
RV Storage Rates and Services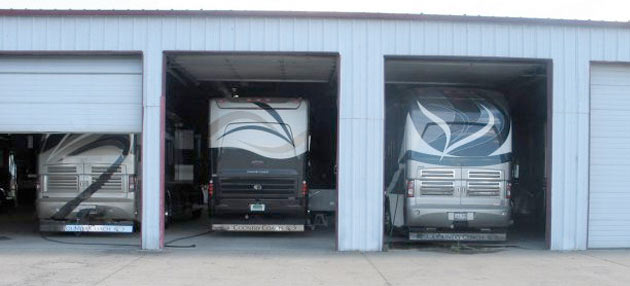 Monthly Indoor Storage:
Trailers and Boats under 10′ tall: $5 per ft/month. (Autos $50/month) *All RVs & Trailers require year-round contract
RVs over 10′ Tall:   40′ and under: $225/month with electric;
Over 40′: $250/month with electric
*All Motorhomes require year-round contract
Additional Storage Services (24 to 48 hour notice needed)
Departure RV: Check tires, fill fresh water, start refrigerator : $35
Departure Boat: Check tires, clean windshield, wipe down interior : $25
Incoming RV: Dump black, grey and fresh water tanks, flush tanks : $50
Incoming Boat: Wipe down interior and turn off batteries : $20
Exterior Wash: RV from drip rail down / Boats include trailer : Quote
Interior Detail : Quote
Carpet Cleaning : Quote
Exterior Detail (wax and buff) : Quote
 Battery Care Service for Extended Stay stored coaches (over 4 months)–Check wet cell batteries fluid levels-house and chassis-and check battery terminals for corrosion: $100 for one year when continuous coach storage